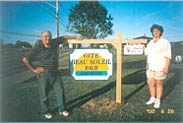 Owners:
Emery Landry &
Lorraine French

Welcome to our Bed & Breakfast...
Thank you in advance for considering us as your
vacation destination.
We opened our home to the public as a Bed & Breakfast in 2002, and have enjoyed accomodating vacationers and travelers alike ever since. We are located across the street from the popular Parlee Beach Provincial Park. It only takes 10 minutes to walk from our door to the waterfront. We are 2 km from downtown Shediac, which has many daily and nightly activities for you to enjoy.
To make a reservation you may contact us via email at
gitebeausoleil@rogers.com or call 506-532-6720.
Come and visit the Shediac region and you will
not be disappointed. Hope to see you soon!
Gîte Beausoleil B&B
649, Main Street
Shediac, NB
E4P 2C6
Tel: 506-532-6720
gitebeausoleil@rogers.com
Get driving directions :
Click here